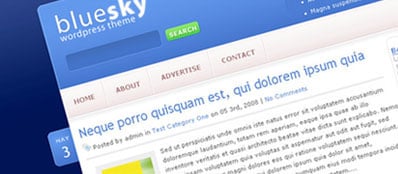 What
BlueSky Theme is premium wordpress theme from ElegantThemes.com. Bluesky is a great wordpress theme for those looking for a smooth and elegant design for their blog. This template takes advantage of custom fields to allow for integrated thumbnail images, as well as various plugins to help take your site to the next level. This theme comes advertisement ready, featuring an unobtrusive integration of google adsense. Refer to the list below for the full range of features.
Full features list
Netscape compatible
Safari compatible
WordPress 3.0 compatible
Social bookmarking ready
Site-wide search bar
Gravatar ready
Firefox compatible
IE7 + IE6 compatible
Opera compatible
Widget ready sidebars
Adsense ready
Custom thumbnail images
PSD files
Valid XHTML + CSS
Smooth tabless design
four unique color schemes
BlueSky comes with four different color vartiations to choose from. If Blue is not what you are looking for, then try out the Red, Green or Purple skins.
optional blog-style post layout
If you would rather not use the abbreviated post structure you can opt for the optional blog-style layout. When enabled, your posts will be displayed in full like a traditional blog.
automated thumbnail resizing
This theme utilizes timthumb to automatically resize your thumbnail images. Because of this, only one thumbnail images is required per post, despite the various thumbnail sizes used in the theme.
advertising management
With BLueSky you can place four 125×125 in your sidebar and a 468×60 ad to your header with ease. Advertisements are handled from within wp-admin, and can be turned on and off at any time individually.
Where
You can buy BlueSky premium wordpress theme from ElegantThemes official website or thru my affiliate link. If you buy thru my affiliate link, I will give you special offer graphic of mini site template, header graphic, ebook 3D action script template, and more value $67.
How
All you have to do is make an order for one year thru this link, It's only $39 per year and you get downloadable access to all of Elegantthemes. I think this offer is really cheap than any premium wordpress theme developer which requires the purchase of each themes, and you know the price for each theme between $30 up to $120.
If you buy original BlueSky Elegant Themes, you will get full support from Elegant Themes team, it helps you to customize your theme. Also, you will get PSD master file of all themes. I use Elegant Themes 'Quadro' for this Antie.info blog and customize it
After making payment, please email me brillie@antie.info with your order number information. I will check it and give you bonus that I promised. Special for Indonesian, I will send the bonus to your home address via CD or DVD, so you don't need to download.